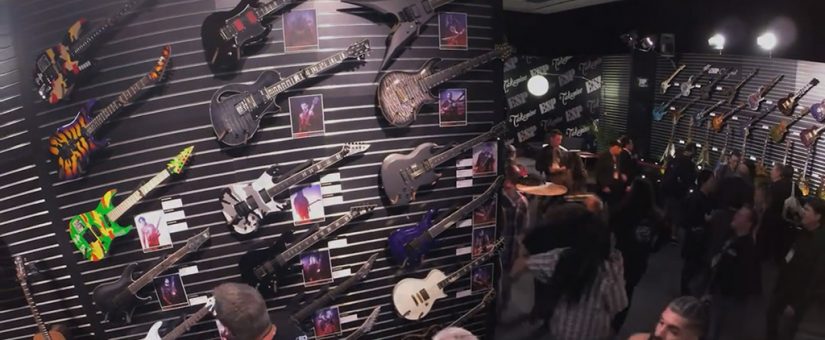 ESP Guitars made a big change for the 2018 NAMM Show, and it worked better than we could have imagined.
For years and years, the company had ensured a lively booth by focusing their NAMM promotions on events, rather than their own spectacular products. When we started working with ESP for the 2005 NAMM Show, they had their booth down on the main floor. The events were then limited to typical artist signing sessions, but still resulted in lines of people extended far down the aisles. When they moved upstairs to their own demo room in 2009, ESP upped the ante by having a stage in the booth complete with lights and full sound reinforcement so we could schedule performances and live clinics by endorsed artists, which expanded even more at the 2016 show when the company became Takamine's distributor and even more artist events were scheduled. Sure enough, the ESP/Takamine NAMM booth would be packed from start to finish, with the loud and festive atmosphere of a rock show.
Sounds good, right? Not exactly.
NAMM should still be considered a huge opportunity to do important business that has an impact throughout the year. The artist events, while popular with NAMM visitors, had a negative effect as well. There were reports from previous shows that some dealers and distributors were unable to get into the booth at appointed meeting times, and even if they did, the crowds made it impossible for the company's reps to discuss important new products being shown. Add to that the blistering volume of a metal guitarist shredding a few feet away, and you can see why we'd inadvertently created an environment that made it more difficult (or even impossible) to do business. While a good number of the booth visitors were welcomed customers, many more were simply fans who were there only for the music. In other words, they weren't there to learn about or shop for ESP Guitars… and that's a problem.
Focusing On What Matters: Products and Content
For 2018, ESP took a new direction for the NAMM Show. We turned the booth stage into a small lounge where the many endorsed artists — a large percentage of which would be visiting the NAMM Show in any case — could come by and be interviewed on video about their guitars and basses. That allowed us to create tons of promotional content that we used during the show itself and will continue using in web and social content for weeks afterward.
Meanwhile, the booth remained extremely busy… but the crowds were there for the guitars and basses instead of the famous faces. ESP sales reps and international staff both reported the show to be very successful in the real reason a company exhibits at NAMM: to sell product.
More JKC Clients with Successful NAMM Shows
We had two other clients who exhibited at NAMM 2018. Lynx Studio Technology required some new signage and literature to freshen up their booth and promote some new product introductions, so we were called on to handle the graphic design and layout work for projects. Even with a tight time frame, we came through and their booth looked wonderful. Both Lynx and JKC client Ocean Way Audio were located in the newly-constructed hall at the Anaheim Convention Center where NAMM had grouped their pro audio exhibitors, and the reaction by everyone seemed to be positive (with the exception of the media and others who found themselves doing even more walking to get between appointments). Ocean Way takes a small booth to NAMM, but still made a big impact with a focus on their award-winning loudspeaker and microphone products.
Below: ESP artist relations manager Tony Rauser and I had some fun doing "selfie trios" with various artist endorsees whom we'd been interviewing throughout the show. These include Mark Heylmun (Suicide Silence), Gary Holt (Slayer/Exodus), Alan Ashby (Of Mice & Men), Javier Reyes (Animals As Leaders), Mike Spreitzer (DevilDriver), and Neil Westfall (A Day To Remember).