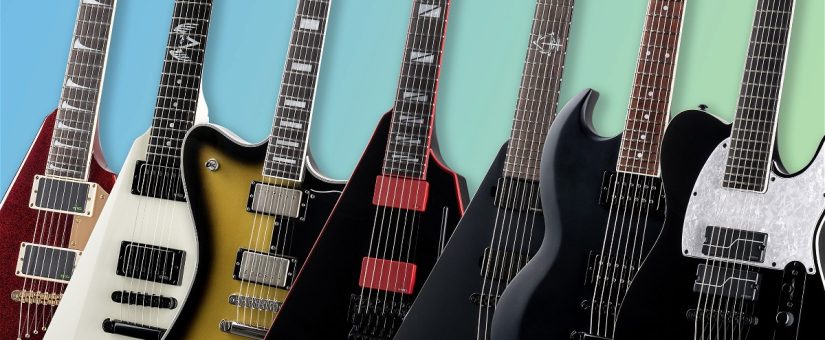 ANAHEIM, CA (APRIL 13, 2023) – ESP Guitars (NAMM Booth 208A/B) had heads turning at their booth with the introduction of 12 new Signature Series guitars. In addition to three new Kirk Hammett (Metallica) LTD KH-V models and a new Olympic White finish for the James Hetfield (Metallica) Vulture guitar [SEE RELATED RELEASES], the company chose the NAMM Show to debut new guitar models for Bill Kelliher (Mastodon), Gary Holt (Exodus), Javier Reyes (Animals As Leaders), Lars Frederiksen (Rancid), Nergal (Behemoth), and Stephen Carpenter (Deftones).
"The Signature Series has long been a hallmark of the ESP brand," says Tony Rauser, ESP Director of Artist Relations. "These are instruments based on the custom specifications of some of the world's most influential musicians, but they appeal to a wide variety of players, far beyond those who are fans of these artists' respective bands. Many people find their perfect guitar in our Signature Series based on the qualities of the guitar itself."
Two new models have been announced for Bill Kelliher, the respected guitarist for award-winning American metal band Mastodon. The LTD Bill Kelliher BK-600 is now available in a distinctive Vintage Silver Sunburst finish. This single-cutaway guitar features traditional full body thickness and no waist cut, with set-thru construction at 24.75" scale. A major update on the BK-600 is its set of Bill's signature Mojotone Hellbender humbucker pickups. Both the bridge and neck pickups may be split with push-pull controls on the volume and tone knobs. Other professional features on the LTD BK-600 include LTD locking tuners and a TonePros locking bridge and tailpiece. Bill's LTD Signature Series Sparrowhawk is also being offered in an outstanding copper-tinged Vintage Silver Sunburst finish. Built with set-thru construction at 24.75" scale, it also includes a set of Bill's signature Mojotone Hellbender humbucker pickups. 
Last year, ESP Signature Artist Gary Holt hinted about a new "very pointy" Signature Series guitar that was in development. That guitar is the LTD Gary Holt GH-SV. Built at 24.75" scale, the GH-SV offers neck-thru-body construction, with a Black finish that's accentuated by multi-ply red binding, red pickup covers, and a special red scripted LTD logo. Its Macassar ebony neck is highlighted by pearloid split block inlays and 22 extra-jumbo stainless steel frets. Components on the GH-SV include a double-locking Floyd Rose 1000 tremolo system, Grover tuners, and a set of direct-mount active pickups including the EMG 89R (neck), with reversed coils to keep the single coil side closer to the neck to capture the sweet spot and a push-pull control to split the pickup, and an aggressive EMG 81 in the bridge position.
The LTD Signature Series JRV-8 is the new signature model for Javier Reyes from the acclaimed instrumental progressive metal trio Animals as Leaders. An 8-string guitar with a 27" baritone scale, it offers bolt-on construction with an alder body, and a five-piece maple/walnut neck with a thin flat contour. Its maple fingerboard includes double-bar abalone inlays and 22 extra-jumbo frets. It's also one of the few production guitars to include an 8-string double-locking Floyd Rose tremolo. The JRV-8's sound is powered by a H/S/S pickup configuration featuring a Fishman Fluence 8 String Javier Reyes Classic Open Core bridge pickup, delivering three voices that are selectable with a mini-toggle switch. The middle and neck pickups are Fishman Fluence Single Width 8.
A new Signature Series guitar is being debuted for Lars Frederiksen, the influential guitarist of the legendary punk rock band Rancid. A lighter, more streamlined version of the ESP Viper, the LTD Volsung-200 is built with set-neck construction at 24.75" scale. Components on the Volsung-200 include LTD tuners, an LTD tune-o-matic bridge and tailpiece, and a set of acclaimed, punchy ESP Designed LH-150 passive pickups in the bridge and neck positions that feature custom black chrome covers and exposed pole pieces. Unlike most Viper models, the Volsung-200 offers three control knobs, with individual volume controls for each pickup plus tone control and pickup selector.
Two new Signature Series guitars have been announced for Nergal, the frontman of respected Polish metal band Behemoth. The LTD HEX-6 offers a symmetrical V-shaped body, built with neck-thru-body construction at 25.5" scale. Other features include 24 extra-jumbo frets, a TonePros locking TOM bridge with string-thru-body, LTD locking tuners, and a set of direct-mount Fishman Fluence Modern Humbucker active pickups. The LTD HEX-200 is a more affordable version of this guitar, with bolt-on construction and a set of ESP Designed LH-301N (neck) and LH-301B (bridge) passive pickups.
A popular finish has returned for the LTD SCT-607 Baritone model of longtime ESP artist and influential guitarist Stephen Carpenter (Deftones). Available once again in Black, the LTD SCT-607 Baritone has 7-strings and a 27" baritone scale. Built with neck-thru-body construction, it features Stephen's own signature Fishman Fluence pickups as well as a TonePros locking TOM bridge with string-thru-body design.
Detailed information and complete specs on all ESP/LTD Signature Series guitars is available on the ESP web site at www.espguitars.com.
# # #
About ESP Guitars
Founded in 1975, the ESP Guitar Company is a leading global manufacturer of quality musical instruments. ESP brands include ESP Custom Shop, ESP Original Series, ESP/LTD Signature Series, ESP USA, ESP E-II, and LTD. For more information call 800-423-8388 or visit www.espguitars.com.