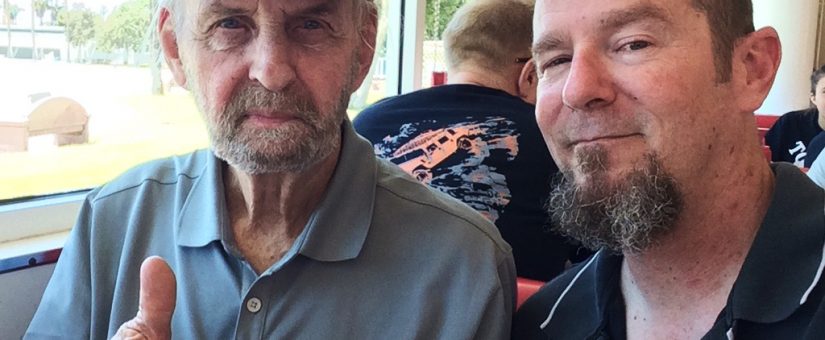 My father, Steve Klopmeyer, passed away on Friday September 8, 2017. To the best of my knowledge, he hadn't been ill. In fact, just the Sunday before his death — like nearly every Sunday for decades — he'd been on the golf course, enjoying time with his buddies and hitting the ball better and further than nearly any man his age. Like all people, my dad had a story, and since I'm a writer, one of the best ways I can honor his memory is to tell that story to the best of my ability.
The Early Years
Steve Klopmeyer was born in 1941 in Cincinnati, Ohio to Irwin and Viola Klopmeyer. His dad was a machinist, and his mom was a homemaker. His parents were relatively old to be having children, especially for their generation. He was an only child.
Growing up in Ohio in the '40s and '50s, my dad led a pretty typical Midwestern lifestyle. One of his serious pastimes was archery. He and my grandfather would enter tournaments, and (according to him) he was a regional champion in his age group. He also enjoyed hunting and fishing with his father. He was a good all-around athlete who played baseball and basketball. His friends from his school years all seem to share common impressions of him: at Wyoming High School, my dad was a guy who loved girls, loved to dance, and was always on top of things from a style standpoint.
---
"In high school, he had his pick of the girls, he was a gifted, natural athlete and an all around loyal friend."
– Bob Thall

"Your father was nearly always in the know when it came to matters of style and I seldom was, so he became a trusted resource.  On the other hand, I was often enough in the know when it came to answers to tests, and I returned the favor."
– Ken Krukemeyer

"I have fond memories of your dad, especially his dancing prowess!"
– Kit Wilson Cassidy
---
My dad met my mom, the former Vanessa Price, while they were both students at University of Cincinnati. They married in 1965. Less than two years later, my father — despite being 26 years old — was drafted into the US Army, near the peak of the Vietnam war. I was originally told that his parents wrote letters to their congressional reps and other entities in regard to my dad being an only child, which may have helped him get his duty assignment of being stationed in Germany (instead of Saigon) after he completed basic training. That may very well be true, but the real story, as I found out some years later, was that my dad was a company clerk who saw his own name on a list of soldiers scheduled to deploy to Vietnam, and erased the entry. He later said that having taken typing in high school, thereby putting him in a position to remove his name from that list, probably saved his life. Once he landed in Germany, my mom was permitted to go over with him, and they apparently had a wonderful time living in Europe. My dad was promoted to Staff Sergeant before receiving his discharge and returning to the states.
Juggling Family & Career
My dad had the personality qualities that made him a natural salesman. He was gregarious and funny. He loved engaging people in conversation (including total strangers, often to their surprise and occasional dismay), and had a genuine interest in others that made it easy for him to establish and maintain great relationships of both business and personal natures. As my dad always had an interest in clothing and style, it's no surprise that he gravitated toward the apparel industry. He worked as a sales rep for a number of brands, and early on was representing companies in the golf and tennis clothing world. His various job changes and territory switches had our family moving homes often.
I was born in 1969, and my sister Danielle came along in 1972. We lived all over the Midwest and then the East Coast in cities including Cleveland (OH), Detroit (MI), Evanston (IL), and then Marblehead (MA) as my dad's career dictated. It was in 1975 that my parents found a beautiful and affluent suburb south of Los Angeles called the Palos Verdes Peninsula, and our family moved there in August of that year. My dad had shifted into a different area of the clothing business: men's traditional apparel. With his experience as a rep and personal sense of style, he'd also developed an instinctual talent for clothing design. He eventually became the president of a private label manufacturer who provided entire chains like Nordstrom and others with their men's slacks. Combined with my mom's career in retail apparel, we were fortunate enough to be well off, and had a very comfortable lifestyle throughout my childhood.
A Great Dad
I can say with no reservations that my father was a great dad. He was involved with activities that my sister and I did, from AYSO soccer and Boy Scouts to Indian Princesses and much more. When I got into music, he bought me my first series of guitars and amplifiers, and took me to music lessons on weekends (including a brief stint where I was learning classical guitar in Pasadena, about an hour drive in each direction). My parents supported me in my education with a semester at Berklee College of Music, and took us on vacations to places like Hawaii (1983), London (1984) and Paris (1985). As I grew into adulthood, my dad's role shifted into that of a great friend and mentor.
After he and my mother separated (and I returned from a lackluster first attempt at college), I ended up living with him in several locations while finishing my education. He had a condo in Rancho PV for awhile, and then we stayed with a family friend in Manhattan Beach, and then with other roommates in a house in PV Estates. In 1991, along with my then-girlfriend, I moved in with him in Long Beach, CA, where I'd remain until I got my first place of my own a couple of years later. As I was wrapping up my bachelor's degree at Cal State, my dad ran into a guy on the golf course who happened to be the Japanese distributor for a variety of musical instrument companies. It was through my father making a connection between Mr. Moridaira and myself that I ended up getting my foot in the door to the industry I've been part of ever since, so I have him to thank for that as well.
Fun Facts
• During my youth, my dad was the "cool dad", per my friends. He would do things that were completely irresponsible but tremendous fun, like hitting golf balls from my backyard into the terraced neighborhood below (and hopefully not damaging too many cars on Palos Verdes Drive South as a result). My friend Mike Burns noted that my dad was one of the few parents who, while our little bands were jamming away in the garage or living room, would seem genuinely interested in the music we were trying to make.
• My dad had impeccable handwriting, and was extraordinarily detail-oriented about everything from wrapping packages to ensuring his cars stayed looking brand new with daily cosmetic maintenance. His clothing and hairstyle were also important to him. He was always a person who counted on being able to impress people through his personal presentation.
• He loved art, and had a very thorough knowledge of specific art schools from Impressionism through Bauhaus, Abstract Expressionism, American Modernism and more. Some of his favorites included Klee, Manet, Modigliani, and many others. He loved going to art galleries when we travelled.
• As everyone who knew him can attest, my father was an excellent golfer who maintained a very low handicap for most of his life. I occasionally had the pleasure of taking him out with my friends who would marvel at both his distance off the tee and his fantastic ability to read greens and sink putts. Under other circumstances, he was naturally good enough to have a career as a golf pro, had that been his focus from early on. Golf was also a huge part of his social life as he aged, and his golf buddies remained among his very closest friends all the way through the end.
• My dad took me to my first-ever pop music live concert in 1978. It was James Taylor at an open amphitheater venue then called Irvine Meadows, and it obviously had an effect on me as a budding musician and performer.
• He was the king of nicknames. Every person he met was almost immediately bestowed a new moniker. I was rarely Jeff; instead, I was "Jaker". His friend Bruce was "Kapalua", or just "Lua" for short. And he, himself, insisted on being called "Gramps" from the moment he became a grandpa in 1996 (and again in 1999). I personally fluctuated between calling him "Poppa-san" and "G-Paw".
• My father genuinely respected those who could do things that he couldn't. He would marvel when he visited during holidays as I prepared a full Thanksgiving dinner, and was amazed at the music that I created and performed, often asking how I did this or that thing in the recording studio or on stage. He loved meeting and being around exceptional people from all walks of life.
• He was always proud beyond measure of his children and grandchildren and our accomplishments. My sister's daughter Vanessa, in particular, was a topic of near-constant conversation, and he jumped at any opportunity to relate stories of her latest success. He'd also become great friends with my son Nicholas, who insisted that Grandpa come along for almost any kind of excursion.
The End
My dad didn't live his life like most people, so it was appropriate that he didn't die like most people either. He and I interacted often with text messages and emails, saw each other for brunch with my family every few weeks, and spoke at least once each and every week. We had a call scheduled for every Friday at noon, and I'm happy to say that not once in the last four years or so did we miss that call. On September 8, it concerned me that he didn't answer the phone as usual, and after a few hours had passed, I began to suspect something might be amiss (though I was hoping that he'd merely turned his phone off and wasn't getting my messages).
Unfortunately, that was not the case. That evening, I had the Long Beach police department check on him, and he had indeed passed away in the condo where he'd resided for the last 26 years. While the sudden and completely unexpected nature of his passing from natural causes at age 76 was a shock to me and his wide circle of friends, I am also cognizant of the idea that in other typical circumstances, with the possibility of slow physical and mental decline on the horizon, he was a fiercely independent person for whom having to rely on others would present a serious difficulty for him and those around him. While I and the others who are close to him would have preferred another 5-10 years (or more) of having him around, in some ways his passing while still being a vibrant person filled with strength and personality was a way that he might have chosen to go, given the choice.
A gallery of some recent photos of my dad with me and my family in recent years. Click to enlarge.
Steve Klopmeyer leaves behind his son Jeff, his grandchildren Nicholas and Vanessa, his former wife Vanessa Watson, his best friend of the last 40 years Bruce Carlin, and a lifetime's worth of friends, co-workers, and acquaintances whose lives he impacted. In lieu of flowers, please consider making a donation to any of the following charitable causes: